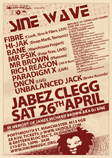 SINE WAVE CHARITY FUND RAISER - SAT 26th APRIL 2008
JABEZ CLEGG, PORTSMOUTH ST, MANCHESTER, M13 9GB (Map)
10pm- 3am
Over 30 DJs, artists and live acts coming together to celebrate the life of James (DJ SINE) Brown, over 2 rooms on the newly installed Blacka Soundsystem at Jabez Clegg.

James Richard Brown (1979-2008), passed away after contracting malaria whilst visiting the West African country of Guinea with the drumming group Tanante. Also known as "DJ Sine", James was a hugely talented technician, DJ, musician; and founding member of Stumblefunk sound system, Drum Music and Tanante.

All artists are donating their services and all proceeds go to James' memorial trust fund and "Against Malaria".
LINE UP:
FIBRE - LIVE (Crash, Sine & Fibre, Kingdom Records)
HI-JAK (Deep Medi, Tectonic, Cultured)
UNBALANCED JACK (Broke Records)
BANE (Eastern bloc)
MR PSIK - LIVE (Fuse Trax)
MR BROWN (Platoon)
PHAT PAT (Platoon, DGMN)
X-LOGIC (Daylight Robbery)
REPUBLIC OF SWING (LIVE SAMBA)
RICH REASON (Hit & Run, Ape)
PARADIGM X - LIVE (Exegene, Reanimate)
DNCN - LIVE (Clever Music, Dust Science)
STEVE THORPE (Tangled)
R-LASS (Drum Music)
RUFMOUTH (Drum Music, State of Mancunia)
LONGSHOT (Drum Music, Bass Camp)
KEN EVIL (Bass Camp, Ape, React fm)
SUBLIMINAL (Subsonik Records)
SE7EN b2b BIOME (Subsonik Records)
LOST PROPERTY (Herbal Sessions)
D'SCRIPT (Gracenote Records)
THE STEPPAS (Ministry of Sound)
AL SONAR (Hit & Run)
ELECTROSLUTS (Fuse)
WITCHDOKTOR (State of Mancunia)
MEGANESH (Ohana, Breaks fm)
DC BELL (Stumblefunk)
O9 (Stumblefunk)
LAZY SUSAN (Stumblefunk)

TICKET INFO:
Tickets are £8 (inc. booking fee) & are available from http://WWW.SKIDDLE.COM and EASTERN BLOCK RECORDS, Oldham St, MCR.

£10 on the door.
PLEASE NOTE: there is NO GUEST LIST for this event. It is a fundraising event in support of James' family and James' trust fund. Thank you for your support.
For further info please call Ken: 07980 638 347, Louis: 07749 414 506 or Fibre: 07932 038 049.

CHECK OUT:
http://www.myspace.com/djsineuk
http://www.drumroots.org.uk
http://www.stumblefunk.org.uk
http://www.againstmalaria.com
©2007 Drum Music