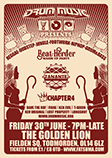 DRUM MUSIC SUMMER SPECIAL


BEATHERDER WARM UP PARTY
FRI 30TH JUNE


THE GOLDEN LION
Fielden Square, Todmorden. OL14 6LZ (MAP)
7pm- 1:30am / £4 ADV
TICKETS: https://www.fatsoma.com/drum-music/6mlpxfe0/drum-music-beatherder-warmup-party
12 December 2016 18:31 PM
DRUM MUSIC XMAS WINTER SOLSTICE PARTY @ ZOMBIE SHACK- FRI 16TH DECEMBER
Yes! That's right folks! Since the birthday reunion you've begged us for more, and we had no choice but to listen! So we're going back to the Attic (aka The Zombie Shack) for a winter solstice party ina Drum Music style!
We invite you to come together again and join us back at our old home with our residents spinning some of those classic tracks from back in the day.
PRICE: £5 + BF ADV
TICKETS:
http://www.brownpapertickets.com/event/2718038
29 March 2013 11:45 AM
DRUM MUSIC & NUFF VIBES @ ANTWERP MANSION - FRI 5TH APRIL
A very special event for Drum Music linkign up with the DROP PRODUCTIONS crew hosting the NUFF VIBES room at ANTWERP MANSION.
Expect 2 rooms with top sounds and loads of top bass music selections. Nuff Vibes room featuring full decor and visuals.
DROP PRODUCTION /NUFF VIBES:
--------------------------------------------
https://www.facebook.com/dropproductionsltd
https://www.facebook.com/weare.droppro
PRICE: £3 + BF ADV
TICKETS:
http://www.antwerpmansion.com/buy-tickets.asp?id=247
07 May 2011 18:16 PM
DRUM MUSIC MEETS HIGH PRESSURE SOUND CLASH!
A very special event for Drum Music, two sounds meeting in one arena for a traditional "soundclash", with strictly postive music and vibes!
-------------------------------------------
DRUM MUSIC
FRIDAY 20TH MAY
DRY LIVE
OLDHAM STREET,
MCR, M1 1JN
10PM-4AM
£3.50/£4 adv £5/£7 door
http://www.drummusic.org/
--------------------------------------------
DRUM MUSIC SOUND CLASH!
2 SOUNDS IN 1 ARENA!!!!!!!!
--------------------------------------------
This month we will be joined by our good friends from Leeds, High Pressure, to meet in a "Sound Clash". Two sound systems and crews will set up in the basement at Dry Live to meet head to head and play the best they can!
Crossing the Pennines with their sound system and full crew in tow, High Pressure join us to showcase their talent and partake in some friendly competition. They will be joined by one of Leeds's finest Hip Hop crews, Alphabetix!
Check the High Pressure radio show Mondays 8-10pm on: http://www.radiofrequencyfm.co.uk/
HIGH PRESSURE:
--------------------------------------------
HIGH PRESSURE DUB CREW - REGGAE - http://www.myspace.com/highpressuresoundsystem
KOMMISAR - DUBSTEP/JUNGLE - http://www.myspace.com/alphabetix30ts
ALPHABETIX - HIP HOP
URBAN VOX - MIC MAN
DANJAR YOUTH - MIC MAN
DRUM MUSIC:
--------------------------------------------
KEN EVIL - DUBSTEP/FUNKY/GARAGE - http://www.myspace.com/ken_evil
LOST PROPERTY - JUNGLIST - http://www.herbal-sessions.co.uk/
RUFMOUTH - HIP HOP/BREAKS/? - http://www.rufmouth.co.uk/
LONGSHOT - REGGAE - http://www.myspace.com/longshotsoundsystem
FOX - MIC MAN - http://www.youtube.com/watch?v=gVbcPpCM984
TANANTE - WEST AFRICAN DRUMMING - http://www.drumroots.org.uk/
--------------------------------------------
SOUND SYSTEM SUPPORT
PROVIDED BY HERBAL SESSIONS
http://www.herbal-sessions.co.uk/
--------------------------------------------

TICKETS:
--------------------------------------------
-ADVANCE DISCOUNT TICKET - £4.00
-SUPER LIMITED DISCOUNT TICKET - £3.50
Available exclusively from Skiddle:
http://www.skiddle.com/events/11469982/
-ON THE DOOR BEFORE 11pm - £5/ £7 AFTER
--------------------------------------------
Listen and Learn
Peace and Love
Drum Music Crew.
03 OCt 2010 14:28 PM
NEW VENUE FOR DRUM MUSIC & HERBAL SESSIONS
After much pressure from "the authorities" who seem to have something against people who want to get together to celebrate life and music entirely through their own devices we've had to move venue, again!
We are very happy to annoucne a very close partnership with HERBAL SESIONS. This crew hailing from Blackpool and now mostly resideing in Manchester put on parties with very much the same ethic. Quality music, quality sound system, quality people and no nonsense good times.
Herbal Sessions and Drum Music will now appear alternating, every 3rd Friday of the month at DRY LIVE.
DRY LIVE is a new venue in the basement of the infamous DRY BAR on Oldham Street in Manchester. The venue is totally separate and independent from the bar upstairs upstairs and has been renovated to give a large room of up to 500 capacity ideally suited for us to bring in the rig and turn up the bass!
SEE YOU THERE SATURDAY (one time only) 16th OCTOBER 2010
Listen and Learn
Peace and Love
Drum Music Crew.
19 Aug 2008
13:21 PM
Drum Music Changes Venue
After three and a half years of positive vibrations at The Attic Drum Music has made the descision to relocate to the much loved Saki Bar on Wilmslow Rd. We're setting up the first event to be one to remember, using the top floor equipped with the legendary Stumblefunk Sound system, the ground floor bar and the covered Shisha smoking area outside.
Please help spread the word and let everyone know Drum Music has moved to Saki Bar. Ta :)
Listen and Learn
Peace and Love
Drum Music Crew.
25 May 2008
16:24 PM
SINE & FIBRE EP - NOW ON SALE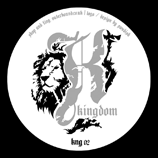 Artist:
SINE & FIBRE
Title:
Kingdom Of Zion
Label:
Kingdom
Cat:
KNG 02
Format:
12"
Released:
31 March, 2008
Price:
£5.00

Sold Out
#
Samples
Title
Side 1
1
MP3
WMA
"Kingdom Of Zion"
2
MP3
WMA
"06 Version"
Side 2
1
MP3
WMA
"Tempo Dub"
2
MP3
WMA
"Wonderland"
22 April 2008
14:09 PM
SINE WAVE CHARITY FUND RAISER - SAT 26th APRIL 2008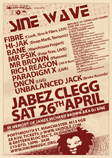 Over 30 DJs, artists and live acts coming together to celebrate the life of James (DJ SINE) Brown, over 2 rooms on the newly installed Blacka Soundsystem at Jabez Clegg.

James Richard Brown (1979-2008), passed away after contracting malaria whilst visiting the West African country of Guinea with the drumming group Tanante. Also known as "DJ Sine", James was a hugely talented technician, DJ, musician; and founding member of Stumblefunk sound system, Drum Music and Tanante.

All artists are donating their services and all proceeds go to James' memorial trust fund and "Against Malaria".
26 Nov 2007
13:20 PM
NYE 07/08 – Drum Music Presents: BASS CAMP Vs CRASH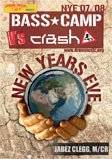 A special New Years Eve event showcasing the best in local, national and international artists. Spread over 3 rooms, each and every act gets a good slot to express their New Year cheer!
We are setting up in the 3 rooms of Jabez Clegg with all our friends and family, so please come down for some serious edutainment. Each room equipped with a seriously heavyweight sound system selected for the music played.
With support from the whole Drum Music Crew complete with visuals, twisted performers, crazy unicorns, all the latest info and nourishment for mind, body and soul.
Come and celebrate all the achievements of 2007 and lay positive foundations for the year to come…
20 Sept 2007
09:45 PM
New Drum Music Website!
After months of planning, design and general jiggery pokery we finally have the new website design up and running. Over the coming months we will be adding a number of different sections including audio (mixes recorded live at Drum Music, individual productions etc), member profiles, artwork, videos, a photo gallery, a forum and general info about our views on life :)
So it's going to be quite a task but the end result will be loads of useful free stuff for you, our lovely friends. Keep checking back to see how were getting on and for info about upcoming events.
Listen and Learn
Peace and Love
Drum Music Crew.
©2007 Drum Music