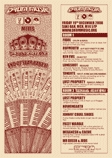 £12 NYE Tickets Available ONly At This EVent!
Drum Music Friday 19th DecemBER 2008
SAKI BAR , Wilmslow Rd, Manchester (Map)
10pm- 4am
Merry Chirstmas to all Drum Music Crew!

As we are such loving folk we have a very special gift for you only available at the DRUM MUSIC Xmas party.
We will be offering everyone who attends SAKI BAR on Friday 19th Dec tickets for our NYE event at the merry price of £12! Check out the lineup here: http://www.dontparty.co.uk add yourself to the event here: http://www.facebook.com/event.php?eid=40806266974
This month the mighty HERBAL SESSIONS crew joins us to mash it up in the second room!!!!!!!
ROOM 1 - DRUM MUSIC
Residents:
FIBRE - DRUM & BASS
RUFMOUTH - HIP HOP-BREAKBEAT-PARTY
KEN EVIL- DUBSTEP
LONGSHOT - REGGAE
TANANTE - WEST AFRICAN DRUMMING
LOST PROPERTY - RAGGA JUNGLE
ROOM 2 - HERBAL SESSIONS
LOST PROPERTY
HOWONEARTH
JOHNNY CRUEL SHOES
FUZZY WARBLE
MEGANESH & CACHE
MR BREEN & JUDE

10k Sound system from: Stumblefunk
PRICE: £ 5 (on the door).
If you have questions or would like to arrange an interview with the organisers or performing artists please contact us on the following number:
INFO/ PHONE LINES: Ruf Mouth - 07748 347 367
©2007 Drum Music